April 22, 2016
Bonjour Mes Amis!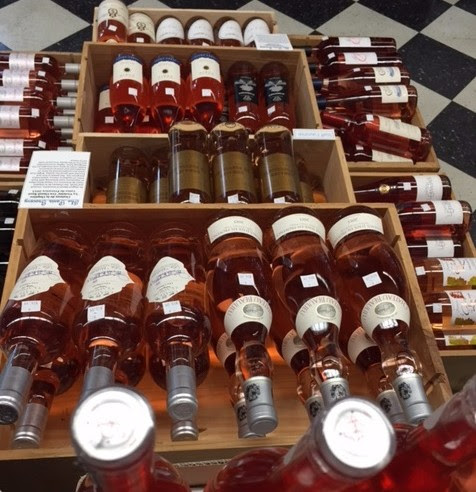 As the weather gets warmer we start bringing in more French wines to keep you cool! Our crates are brimming with whites and rosé, so pick up a cool bottle and chill out. Buy six bottles and receive 10% off and a reusable wine carrier. Santé!
We Carry French Linens!
Le Jacquard Francais has been creating table linens in France since 1888. The passionate team of weavers, warp beamers, knotters and other specialists
work together to produce an array of exceptional French fabric. Paris Grocery is proud to carry Jacquard Francais' stunning kitchen linens and tea towels. A delightful way to add French flair to your home!
100% Combed Cotton Tea Towels $16.99-$22.99
100% Combed Linen Tea Towels $22.99
Cheese of the Week
Le Cremeux du Jura
If you like lusciously gooey cheese, look
no further! We had to have this pasteurized version of the renowned Vacherin Mont d'Or from France. Milky with wood notes, this cow's milk cheese is bound in cedar bark. Use a spoon to dip into the bloomy rind and reveal its creamy, gooey center.
Dauvissat Wines From Chablis!
As always, we at Paris Grocery strive to bring you delicious and exciting wines from France, and this week is no different. We proudly introduce two Chablis wines from Caves Jean & Sébastien Dauvissat: The AOC Chablis, Saint-Pierre, and the Premier Cru, Vaillons.
The domaine has been in the Dauvissat family since 1899. Sébastien Dauvissat farms roughly 9 hectares, near the hamlet of Chichée, with vines that average between 20-40 years; vines older than 50 years reserved for the domaine's old vines bottlings.  As with all top sites in Chablis, Kimmeridgian limestone is the dominant soil type here—but there is also some clay and gravel contributing a unique character to the wines. Despite the domaine's modest size, the family has holdings in some outstanding crus: Les Sechets 1er Cru, Montmains 1er Cru, Les Preuses Grand Cru—and Vaillons 1er Cru. The cave lies in the 17th century presbytery, Petit Pontigny, on the property, that was expanded in 1980. A Chablis producer of renown worth getting to know.
Caves Jean & Sébastien Dauvissat
 AOC Chablis 'Saint-Pierre' 2014  $29.99

"A pretty and expressive nose of citrus, green fruit and oyster shell aromas leads to round, delicious and decidedly forward middle weight flavors that possess a seductively textured mouth feel before terminating in a clean, cool and markedly dry finish. This excellent effort will almost certainly drink well young yet reward a few years of cellar time as well."
–Allen Meadow's Burghound.com
Caves Jean & Sébastien Dauvissat
Chablis 1er Cru 'Vaillons' 2010  $40.00
"Dauvissat elected to age 75% of the 2010 Chablis Vaillons in oak for its second year, which has given the wine a level of softness not usually found in the young 2010s. Given the aging, it is not too surprising that the 2010 Vaillons comes across as rich, sensual and quite textured in this vintage. Apricots, peaches, spice and flowers are woven together nicely on the soft, plush finish."
90-91 Points, Wine Advocate
A Bientot!
Kelsey & Manuel