Paris

Grocery seattle

January 8, 2016
Coucou,
Wake up, it's a new year! I hope your 2016 is off to a great start… A little French cutie came in this week with his Maman who was ecstatic to discover us. Enchante', Mara!
For the second year in a row,  I sped off for a voyage vers les îles San Juan, after locking up Paris for the night. Knowing that we wouldn't arrive at our destination until around 11:30 pm, I packed us a New Year's Eve picnic for our journey on the water.
No Vichyssoise this year, but once again my husband & I covertly drank Champagne out of our blue Duralex tumblers on the ferry… You won't tell will you?  🙂  And enjoyed snacks on le Souk's Tunisian plates which kept our picnic classy. I love leaving these pieces in our friend's cupboard as a usuable thank you note.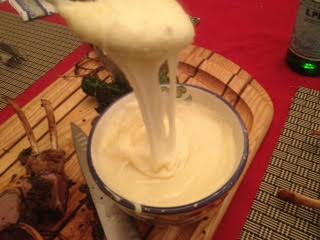 Later on that weekend, we enjoyed a rack of lamb & the world's best French sidedish, Puree Aligote ala Mimi Thorisson. (If you've heard me say it once, I'll say it again, I highly recommend buying her cookbook, A Kitchen in France: A Year of Cooking in France.)
We hope to see you soon and send you our very best wishes for 2016. And hey–Saturday is National Cassoulet Day! Come see us for Tarbais beans, duck fat, duck confit & a hard-to-find ingredient, Epices Rabelais, which adds an authentic & unique touch.
________________
Last but not least, this is a virtual thank you note to Seattle's Bakery Nouveau, who yesterday dropped off a gorgeous loaf of Stollen with the sentiment, "We love your store. Happy holidays!"  Bakery Nouveau, je t'aime!!!
A Bientot,
Catherine, Manuel & the entire Paris Grocery crew
________________________
Cassoulet (de Paris Grocery)
Celebrating Le Fete des Rois, Three Kings Day (or Epiphany) is an annual Spanish Table tradition. Spanish Table/Paris Grocery owners Steve & Sharon always host a party for the staff & close family friends. And on a table piled with Spanish & Portuguese dishes, Sharon's magnificent Cassoulet took center stage.
Here is her recipe, only slightly altered for the home cook…
Serves 20 or more, depending on the appetites
1 pkg Poitrine Salee or Iberico smoked Pancetta
16 oz Toulouse Sausage
8 oz Saucisse de Canard aux Figues
3 onions, studded with one clove each
6 carrots
3 lbs dried Tarbais/white beans, soaked overnight and rinsed
3 tablespoons olive oil
Fine sea salt
Freshly ground black pepper
14 oz duck fat
5 lbs pork shoulder roast
Two packages Grimaud duck confit
1 large onion, sliced
18 cloves garlic, chopped
3 pounds canned crushed tomatoes
3 teaspoons Herbs de Provence
½ cup chopped fresh parsley
2 cups bread crumbs
Tie the clove-studded onions and carrots together in a double layer of cheesecloth and put with the beans, sausage, and bacon in a large, deep, heavy-bottom casserole. Cover with water at least 3 inches above the top of the bean mixture. Bring to a boil, then turn the heat down and simmer until the beans are almost tender, about 1 ½ hours. Drain, reserving the cooking liquid. Discard the onion and carrots in the cheesecloth. Transfer the beans and meat to a bowl, cover loosely with foil, and set aside. When cool, slice the sausages and cut the bacon into bite-size pieces.
Preheat the oven to 350 degrees. Roast the pork shoulder in a shallow roasting pan until the internal temperature reaches 150 degrees. Remove and when cool enough, cut into cubes. Cut the confit into bite-size slices.
In a large casserole, heat 3 tablespoons of the duck fat over medium-high heat. Add the sliced onion and garlic and cook gently until the onions are translucent and golden. Add the canned tomatoes, thyme, and cooked beans. Stir in about 2 cups of the reserved bean cooking liquid, transfer to the oven and bake for 30 minutes at 250 degrees. Remove from the oven and stir in the parsley.
Heat the oven to 425 degrees. Add the meat, stir to combine and sprinkle the bread crumbs over the top. Drizzle with the remaining duck fat, and cook until the crumbs are nicely browned and the cassoulet is very hot.
NEW YEAR'S RESOLUTIONS
I love this article from Decanter & hope you will take up some of these resolutions as well. Like…SUPPORT INDEPENDENT WINE SHOPS!
Here's one of the gorgeous wines Sharon was prescient enough to stock up on… This wine is sold out in most shops, but we have a secret stash.  Come to us if you have someone you want to impress!
We love Domaine Janassse in any year, but would personally jump on the bottles we still have from the incredible 2012 vintage. A gem to stash for 20 years, or decant & relish now. Check out these stellar reviews on Cellartracker which confirm it's drinking beautifully even in its youth.
2012 Domaine de la Janasse Chateauneuf-du-Pape Vieilles Vignes    $120.00
"Most likely one of the top 2-3 wines produced, the 2012 Chateauneuf du Pape Vieilles Vignes is a rough blend of 80-85% Grenache, 10% Mourvedre (which was harvested October 10) and the balance Syrah, that hit 15.4% natural alcohol. Seeing the same elevage as the 2011, it sports an inky purple color as well as spectacular array of black and blue fruits, violets, liquid flowers and underbrush to go with an energetic, seamless and full-bodied profile on the palate. Lighter weight than the 2007 and 2010, it possesses notable freshness, purity and elegance. It should benefit from short-term cellaring and thrill for upward of two decades. Drink 2016-2032″
96 points, Wine Advocate
CHEESE OF THE WEEK
El Trigal 1 Year Manchego, La Mancha $21.99

Believe it or not, the cheese I'm starting off with in 2016 is a Manchego, but not just ANY Manchego.
Being the sister store to Spanish Table, Paris carries the largest selection of Manchego in town–from 3 month to 1 year old, raw milk to pasteurized. And after the dangerous job of reviewing them all, El Trigal's One Year reigned as my favorite. The Corcuera Family was the first in all of Castilla La Mancha to make and commercialize Manchego Cheese, and they use same day milk resulting in an ultra-buttery taste–trust me it makes the difference. I know these days you can get Manchego at the supermarché, but it just can't compare.