Paris Grocery seattle
July 23, 2015
Bonjour Mes Amis,
I'm going to an Ottolenghi dinner with friends next month where we "cook the book" so to speak. I was perusing all his cookbooks last night, & this peach salad spoke to me.
Speaking of peaches, I've mentioned Clotilde Dusoulier's charming book "Edible French" in the past, & I love her translations of edible idioms. 
Avoir la pêche literally means "having a peach" but translates to being in high spirits or feeling peachy! (Click here to hear it pronounced.)
And I'm feeling pretty peachy about our paella party on Saturday.
À bientôt, j'espère,
Catherine
JOIN US SATURDAY 7/25 FOR THE ANNUAL SPANISH TABLE PAELLA DEMO!!!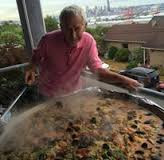 El Jefe, Steve Winston, will be cooking a giant paella, and you are invited to join us for a free taste. Show up at The Spanish Table between 12 & 1 pm to get a lesson from the master–the paella will be finished & served after 1.After you've stocked up on rice & Rioja, stop by next door for some freshly sliced Jamon Serrano or Iberico and one of the 8 types of Manchego we cut to order at Paris.
___________________
Peaches and speck with orange blossom from
The Ottolenghi Cookbook
Serves 4-6
5 ripe peaches
1 tbsp olive oil
2 red or white endives, leaves separated
50g watercress
50g baby chard leaves
or other small leaves
100g speck, thinly sliced (10 –12 slices)
coarse sea salt and black pepper
Dressing:
3 tbsp orange blossom water
1 tbsp good-quality balsamic vinegar
1 tbsp maple syrup
3 tbsp olive oil
A substantial starter, this salad is summer bliss, offering contrasting textures and aromas. Use the best ingredients you can get your hands on – it is crucial here. Taste the peaches; they mustn't be floury, just sweet and juicy.
Yellow-fleshed peaches are normally less watery than the white variety, so they will chargrill more readily. Grilling, though, is not essential.
It will add to the presentation and give a slight smokiness but you can choose to skip this stage.
FRENCH CLASS AT HOME

School's out, but with these fun learning aids, parents et enfants can improve their French.
Home La maison My First Bilingal Book $7.99

This sweet board book walks you through a French home, from the front door to the nursery. 
Un Deux Trois First French Rhymes book & CD $9.99
A collection of 25 nursery rhymes. Put on the CD, repeat the phrases & sing along. Ages 2-7.
Poisson Un Poisson Deux Poisson Rouge Poisson Bleu $12.95

Dr. Seuss en Francais! Classic zany Seuss makes learning fun with a familiar story. Age 4 to 8. Tres Bien!
Milet's Bilingual Visual Dictionary Interactive CD $19.95
Designed for children aged 5-14, but pre-schoolers can start by looking at the pictures & listening to the words, adults can brush up. 1300 everyday words with illustrations & pronunciations. Learn through matching games, word searches & jumbles. 
Kids Cook French by Claudine Pepin & Illustrations by Jacques Pepin $21.99
Written by Jacques Pepin's
 daughter… Every recipe is in both English & French.
"Kids Cook French is a magical introduction to some of the most delicious French classics. With Claudine's recipes, her father's and her daughter's illustrations, this is a book by a family for your family." – Dana Cowin, Editor in Chief, FOOD & WINE
FOR THE PARENTS
Cidre le Brun Brut, Bretagne $7.99

This French artisan cider from Brittany is deliciously classic but with an attractive modern look. Earthy apple skin meets tart fresh fruit–pure pressed juice from handpicked apples.
"A very fun cider, easy to share with family and friends for a new experience, or an old tradition ~ Un homme élégant" -Jo Diaz
"You could also steam some mussels in this cider, deploy butter in the resulting broth, and break out the crusty bread. Then your life would be complete." -Jameson Fink
Domaine Petroni Blanc 2014, Corse $11.99

Ever had a white from the island of Corsica? Fortunately Corsican wines have become hot & more are being imported. Dry whites are uncommon and this is 100% Vermentinu, as its called in Corsica. Fresh & crisp. Lovely & rare. Sunshine & salty sea breezes.
Domaine Sorin Rose 2014, Bandol $17.99

"With all the extra richness that comes from a Bandol rosé, this is a full wine, rounded with a touch of caramel as well as generous berry fruits…The acidity gives a lift to the concentration of the wine." -92 points, Wine Enthusiast 
Domaine Porte Rouge 2012, Chateauneuf de Pape $38

This wine just made my job a whole lot easier. If someone wants a great Chateauneuf for under $40, I would look no further. This is a newer estate is managed by the talented consultant Phillippe Cambie. Mostly Grenache, with a splash of Syrah & Mourvedre, this is meant to be enjoyed right now. Seductive berries & violets abound in this very expressive vintage.
"The palate bears engaging black berry, simmered fruits appeal; the tannins slot in well, adding depth and a more grounded finale. It has a compact promise, a proper drinkability as Châteauneuf should be, is very enjoyable, a sort of w.o.w. wine that is high on charm. The fruit is notably tasty, very typical of 2012. Very good fresh finish. From mid-2015." 4-5 stars, DrinkRhone