Paris

Grocery

seattle

May 21, 2015
Bonjour Mes Amis,
Happy Memorial Day…

OPEN ALL WEEKEND
Saturday 10 am to 6 pm
Sunday 11 am to 5 pm
Monday 11 am to 5 pm
Years ago, I think one of the most popular recipes I put in the Spanish Table newsletter was for a creation called the Moorish mini-slider (email me for the recipe) which won me an Iron Chefish burger cook-off on Camano Island. But I think the recipe below is destined to become a new classic…
À bientôt, j'espère,
Catherine
Grilled Merguez Sandwiches with Caramelized Onions, Manchego, and Harissa Aioli adapted from a recipe by Joshua Bouzel, contributor at Serious Eats
1/3 cup aioli
1 tablespoon harissa
8 links merguez
1 French baguette
1/3 cup extra-virgin olive oil
1/2 cup caramelized onions
1/3 pound manchego cheese, grated
1 bunch fresh cilantro
Mix aioli and harissa together in a small bowl. Set aside.
Light one chimney full of charcoal (or set gas grill at medium-high.) When all the charcoal is lit and covered with gray ash, pour out and arrange coals on one side of the charcoal grate. Set cooking grate in place, cover grill and allow to preheat for 5 minutes. Clean and oil the grilling grate. Grill merguez over hot side of grill until browned all over and cooked through, 4 to 6 minutes total. Transfer to plate.
Slice baguette into four 6-inch portions and halve each portion lengthwise. Brush cut side of each baguette with oil. Grill baguette over hot side of grill, cut side down, until lightly browned, about 1 minute. Remove to plate.
Top bottom half of baguette with 2 merguez links, about 2 tablespoons of caramelized onions, manchego cheese, and a few sprigs of cilantro. Spread harissa aioli on top half of baguettes and place on top of each sandwich.
Place sandwiches on cool side of grill, cover, and cook until cheese has melted, about 5 minutes. Transfer to a plate or tray and serve immediately.
HOLIDAY WEEKEND WINES
Le Pigeoulet en Provence 2011, Vin de Pays de Vaucluse $16.99 

The Brunier family's holdings include Vieux Telegraphe (perhaps the most celebrated cru of the Southern Rhone.) This affordable, everyday Vin de Pays is fresh, rich & fruity and terroir-driven. 35-year-old vines grown in rich clay soil, Le Pigeoulet comes from the foothills of the noble La Crau plateau. Grapes are grown on the warm flats around Chateauneuf de Pape and the cooler foothills of Mt Ventoux. Hand-harvested Grenache with a small balance of Syrah, Carignan & Cinsault–silky & clean with the essence of fresh strawberries. This wine loves grilled merguez…
Domaine de Reuilly "Les Fossiles" 2013, Reuilly $25.99

Reuilly is experiencing a renaissance… After being ravaged by phylloxera in the late 19th century, Denis Jamain's family played a major role in the bright future of the region. Kimmeridgian limestone forms a bridge between the Loire Valley & Chablis in Burgundy, so you get what Kermit Lynch calls "Sancerre grown at Chablis".  This is stunning Sauvignon Blanc.
Chateau de Campuget  Tradition Rose,  Costieres de Nimes 3 liter Box $26.99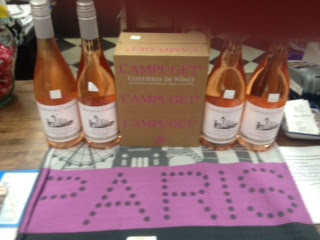 9 boxes left in stock as I write this–and I'm already hearing rave reviews!!!
You read that right–A 3 LITER BOX FOR $26.99. That's 4 bottles of wine which ='s $6.75 a bottle. And boxed wine is awesome because it will stay fresh in your fridge for up to 6 weeks. Read this article: "Why I Always Have a Box of Wine in My Refrigerator." This is bargain Provencal rose.  Aromatic raspberry & black currant perfume, full-bodied with pleasant spice.
Henriot Rose Brut Champagne $68 
Doesn't reading this review make you want a glass right now?
"A rich and toasty version, elegant overall, with a silky texture and mouthwatering acidity. This offers a lovely array of white raspberry, white cherry, toasted brioche, smoky roasted nut, honey and candied lemon zest flavors. Drink now through 2021." -93 points Wine Spectator
CHEESE OF THE WEEK:
MANCHEGO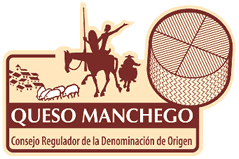 Yes, these days Manchego can be a dime a dozen,
but we stock the real deal. From young to aged, raw milk & pasteurized, big producers to tiny farms–I encourage you to come in, taste & compare. Grab n Go available next door at Spanish Table, cut to order here at Paris.
Some of my favorites include:
El Trigal 1 Year $21.99 lb
Buenalba Semi-Curado (Raw Milk) $22.99 lb
Artequeso 6 Month (Raw Milk) $25.99 lb
Buenalba (Raw Milk) with Rosemary $27.99 lb