Paris

Grocery

seattle

May 14, 2015
Bonjour Mes Amis,
I'm going to make this short & sweet as it's been a busy day!

Come in for a "box of love" & a taste of Tete de Moine…
À bientôt, j'espère,
Catherine
CRÈME VICHYSSOISE by Mimi Thorisson

This year is a gardening first for me…I grew my own leeks. They are proudly standing like verdant flagpoles in the garden, & I'll need to harvest them soon to make room for tomatoes. We are growing our own potatoes as well, but they won't be ready until later in the summer.
Ingredients: (serves 6)
7 leeks, (white bulb) sliced into rings
5 potatoes, peeled and quartered
1 onion, sliced
2 sprigs fresh thyme
1 bay leaf
2 liters of chicken or vegetable stock
50 ml white wine
25 grs butter
salt and pepper to taste
100 ml crème fraîche
Slice onions, potatoes (quartered) and leeks (into fine rings). In a large pot melt butter over low heat, add onions and fry for 3 minutes. Add the potatoes and leek and continue frying on a low heat for 10 minutes. Deglaze with the white wine, reduce for 2 minutes, then add the chicken or vegetable stock. Add thyme, bay leaf, salt and pepper. Stir well, and when it starts to boil, lower heat, cover pot and continue to cook for 20 minutes.
When ready, let the soup cool, then mix in the food processor until smooth and liquid. You can chill the soup in the fridge for 20 minutes or more. I also enjoy this soup served warm. It's up to your taste.
Chop chives (finely). Add a tablespoon of crème fraîche, sprinkle with chives and serve.
EXCITING NEW WINE ARRIVALS
Chateau de Campuget  Tradition Rose 2014, Costieres de Nimes 3 liter Box $26.99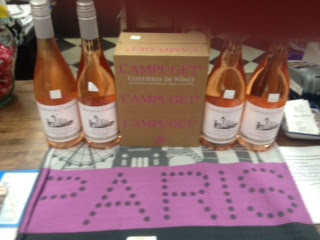 Kelsey's Mon Ami's favorite Rose…
You read that right–A 3 LITER BOX FOR $26.99. That's 4 bottles of wine which ='s $6.75 a bottle. And boxed wine is awesome because it will stay fresh in your fridge for up to 6 weeks. Read this article: "Why I Always Have a Box of Wine in My Refrigerator." This is bargain Provencal rose.  Aromatic raspberry & black currant perfume, full-bodied with pleasant spice.
Oisly & Thesee 'Les Bruyeres' Sauvignon & Chardonnay 2013, Cheverny $9.99

Chances are, if you're a regular around here, you've taken home a bottle of "Wally" Sauvignon Blanc. Now comes another killer $10 white with the addition of 20% Chardonnay.  Springtime aromas, with smooth peach & apricot stonefruit. My new favorite everyday white.
Chateau Roland le Garde Tradition 2010, Blaye Cotes de Bordeaux $14.99

This direct-import steal is everything you could want in an affordable Bordeaux. Two big thumbs up for this organic Right Bank bottling. Spicy green pepper & sultry black plums–this has grilling season written all over it.
CHEESE OF THE WEEK
Tete de Moine $19.99 lb (reg. $30.99)
We had a few wheels of this in the fridge, so I decided to make it a price you couldn't resist. This cheese is right at it's peak–nutty, sweet & fruity, with a little pleasant beefiness from the washed rind. From the mountains of Jura, where monks taught local farmers how to make this cheese–named after the little bald patch on a monk's head 🙂 Pair with an Alsatian white.