Paris

Grocery

Seattle

May 7, 2015
Bonjour Mes Amis,
Well, looks like we'll have some amazing weather for Mother's Day!
Don't miss the Mother's Day classic–the Pike Place Flower Festival: Saturday,May 9 – Sunday, May 10, 2015
9:00 a.m. – 5:00 p.m.
More than 40 flower farmers will line the cobblestone street of the Market, plus there's a card-making booth for the kids.
Join us for our next wine tasting, tomorrow, Friday May 8th from 4:30 to 6 pm. We're thinking Provencal Rose & Bordeaux for some grillin' & chillin' when it's 77 degrees on Saturday!
À bientôt, j'espère,
Catherine
MOTHER'S DAY GIFTS
Le Cadeaux Melamine Tableware $8 – $27
This stuff is incredible because it emulates Mediterranean ceramics, but is made of durable dishwasher safe Melamine. That means you can throw it in your picnic basket, take it on your boat or camping, use it for parties with no worry.
We've got salad plates, baguette trays, appetizer plates, cutting boards, serving trays…
Click on each pattern for a view: Citron, Romana, Rooster Blue, Rooster Yellow, Malaga
Jacquard Francais Tea Towels $16 – $23

The term 'tea towels' came from British households where only fine linen was used to dry expensive tea service pieces. Made in France since 1888, these towels are simply gorgeous. 100% combed cotton in vibrant colors–they can also double as place mats. I was at a friend's house for dinner & hers were over a decade old–I marveled at how well the colors held up & how soft they became over the years. These are something you will want displayed in your kitchen, not just stowed in a drawer.
Michel Design Works Pot Holders $7.99
These have been flying out of here, and for $8 you can see why. 100% quilted natural cotton, machine washable.
Kusmi Tea Brunch Assortment $25.99

All your Kusmi favorites packaged together–5 tins ofParis's favorite tea.
An assortment of three exclusive Russian blends. Anastasia, a blend of Earl Grey, lemon and orange blossom, Kashmir Tchai, a blend of black teas with spices based on the traditional Nepalese recipe and Imperial Label, a subtle blend of green tea, cinnamon and licorice. Those who love full bodied teas will delight in English Breakfast, with its blend of black teas from Ceylon and Assam. You will love the refreshment of Spearmint green tea after a meal.
Rose Six Pack

Mom doesn't just need a bouquet of flowers, she needs a sip of something pink! None of our rose's are sweet, just refreshingly dry. I just counted over OVER 21 ROSE'S TO CHOOSE FROM & that's not including sparkling Rose! Pick six that fit your budget & put them in one of our Paris Grocery wine totes. As always, you buy 6 bottles, you get 10% off (which more than pays for the bag.)
Clos Cibonne Cuvée Spéciale des Vignettes Rose 2012, Cru Classe Cotes de Provence $28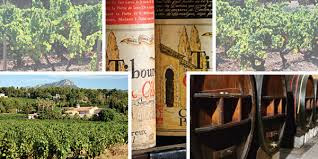 You read that right–my favorite Rose in the shop is a 2012 & let me tell you why. Clos Cibonne began in 1797, but in the late 1990's the current generation of the family completely renovated the cellars. Clos Cibonne's focus is Tibouren, a native Provencal varietal.  Their Cuvee Speciale is sourced from their oldest vines, situated 800 meters from the sea. The wine is first fermented in stainless steel, and then aged under 'fleurette' for 1 year in 100 year old foudres. This rose is anything but tired–it has serious stuffing. Pair with bouillabaisse.
"Light, bright orange. A complex, highly perfumed bouquet evokes dried red fruits, orange pith, smoky minerals and toasted nuts, with a spicy nuance building with air. Fleshy and dry on the palate, offering intense cherry and bitter rhubarb flavors and a touch of lavender pastille. Finishes with outstanding energy and mineral-driven persistence, the floral note repeating strongly." -93 Points, Josh Raynolds, IWC
Poterie Not Freres Cassoles $149 TWO LEFT
Poterie Not Freres is THE source of authentic cassoles
. Made by the Not family since 1830, using local clay from Gascony. Like making a paella in the traditional pan to achieve socarrat, a true cassole will produce the best crust–a key component to authentic Cassoulet, aka 'the secret of the seven skins.'
 "
A traditional cassole has a tapered shape that gives it an extremely high surface area to volume ratio. More room for evaporation means better skin formation and better browning." -J. Kenji Lopez-Alt, Culinary Director at Serious Eats
WE LOVE MACARONS!!!
A box of chocolates is nice & all, but Macarons are what warms our heart.
$2 each.
This week's flavors:
Vanilla Bean
Salted Caramel
Pistachio
Chocolate
Passion Fruit
Orange (Dairy Free)
Blueberry (Dairy Free)
Raspberry
Lemon
Guava
And for the chef, we have a huge selection of Macaron cookbooks & fillings which make for a sweet gift.
CHEESE OF THE WEEK
Le Grand Lou Bren $29.99 lb
Affineur Rodolphe Le Meunier says to think of this as sheep's milk Saint Nectaire. Made by a handful of shepherds who broke away from supplying milk for Roquefort. Janet Fletcher, one of my favorite cheesemongers waxed so poetic on this new cheese that I had to bring it in:
"I love everything about this cheese: its handsome appearance, its seductive aroma, its tender texture. The interior is uniformly ivory, with a few tiny openings; the damp rind is dusted plentifully with white mold, a sign to me that the cheese is alive. Sometimes cheeses of this type are dense and sticky inside, which turns me off, but Lou Bren is amazingly light. It smells of cave, aged meat and mushrooms and a little bit of roasted peanuts. Please do eat the rind; its briny crunch is part of the sensory experience, like a sprinkle of fleur de sel on an egg."
Julia Child's Quiche Lorraine from Mastering the Art of French Cooking Volume Two $60
1 single-crust pie shell, well chilled
3 to 4 ounces bacon (about 6 to 8 medium-cut slices), sliced into 1/4-inch segments
3 eggs
1 1/2 cups to 2 cups cream or half-and-half
1/2 teaspoon salt
pinch of freshly ground pepper
pinch of nutmeg
1 to 2 tablespoons butter, cut into pea-sized amounts
Preheat oven to 400 degrees.  Line the pie crust with aluminum foil and fill with dried beans or pie weights. Bake in the preheated oven for 8 to 9 minutes. Then remove the foil and pie weights and cook for 2 or 3 minutes more, until the shell is starting to color. Remove from the oven and reduce the oven temperature to 375 degrees F.
Meanwhile, prepare the filling. Over medium heat, cook the sliced bacon in a skillet until cooked and lightly brown. Remove and let place on a plate lined with paper towels. Once cooled slightly, evenly scatter over the bottom of the partially-baked pastry shell. Next, beat the cream (and/or half-and-half) with the eggs, salt, pepper, and nutmeg, until well blended. Pour over the bacon slices into the hot pastry shell, then sprinkle the butter dots on top. Bake in the 375 degree oven for 30 minutes, until the quiche has puffed up and browned.  Let cool slightly; serve warm or cold.