Paris

Grocery

seattle

April 1, 2015
Bonjour Mes Amis,
My first customer on Sunday was a French gentleman coming to do his Easter shopping. When I asked what he was making he responded, "But of course, 
Epaule d'Agneau Confite et Flageolets. It is what you eat on Easter."
Since then, there's been a few people talking about plans for Cassoulet, but the phone keeps ringing. "Do you have French Flageolet?" Mais, oui.
This week's wine tasting will feature rose & red I've picked out that goes with lamb. And I'm hosting, so please stop by & taste with me!!!
Free Wine Tasting TOMORROW
4:30 to close (6 pm) Thursday 4/3
WE WILL BE CLOSED EASTER SUNDAY
so we can celebrate with our families. 
À bientôt, j'espère,
Catherine
_________________________
KELSEY'S ROAD DIARY FROM FRANCE
Our very own Kelsey recently returned from 3 weeks in
Paris

& Lyon. Each week, she'll share a snippet of her adventures with us. Today she talks about Lyon:

"On my recent trip to France I had the pleasure of visiting the city of Lyon for the first time. I quickly came to love the quaint Bouchons, restaurants serving traditional cuisine, scattered throughout town. One chilly afternoon after a brisk walk along the Saône, my companion and I decided to warm up in a petit bouchon peeking out along one of the many cobble stoned streets. Our piping hot bowl of squash velouté with whole roasted chestnuts
, and tender, nutmeg scented quenelle has me now longing for French comfort food on rainy Seattle days."
Epaule d'Agneau Confite et Flageolets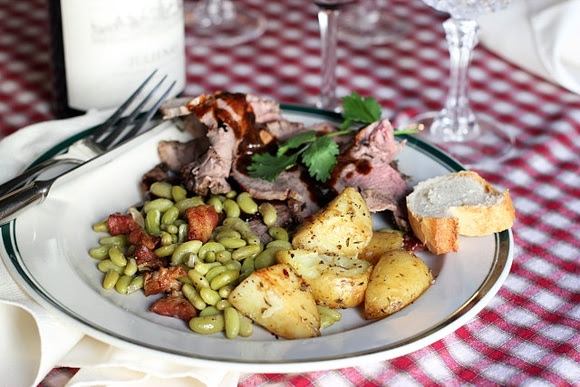 Braised Lamb Shoulder with Flageolet Beans from Clotide Dusoulier's Chocolate & Zucchini blog
Prep Time: 10 minutes
Cook Time: 4 hours
Total Time: 6 hours
Serves 4 to 6.
Ingredients
1 bone-in shoulder of lamb, about 1.5 kg (3 1/3 pounds)
Olive oil for cooking
2 to 3 tablespoons Herbes de Provence (or a mix of dried thyme, rosemary, basil, and marjoram)
the cloves from 1/2 a head of garlic
60 ml (1/2 cup) dry white wine
Fine sea salt
Freshly ground pepper
Coat the meat lightly with olive oil and rub it with the herbs to cover all sides. Wrap tightly in plastic (or return to the butcher's paper wrapper), and refrigerate for at least 1 hour, preferably overnight.
Remove the meat from the fridge 30 minutes before cooking. Preheat the oven to 120°C (250°F). Separate the garlic into individual cloves, but leave each clove in its own skin.
Place the meat in a heavy pot with a tight-fitting lid; a cast-iron cocotte is ideal. Sprinkle the meat with salt and pepper, place the garlic in the pot around it, and pour the wine into the pot. Place the lid on, and insert into the oven.
Cook for 4 hours, flipping the meat and basting it with its own juices every hour or so. If the juices run a bit low -— this may happen if the lid of your pot is not perfectly tight —- pour in a little more wine or water. The meat is ready when it is dark brown and very tender.
Flageolets
Prep Time: 5 minutes
Cook Time: 40 minutes
Serves 4 to 6.
300 grams (10.5 ounces) dried flageolet beans 
Olive oil
2 medium yellow onions, peeled and sliced
Vegetable or chicken stock, preferably homemade
Fine sea salt
Freshly ground pepper
Soak the beans overnight in twice their volume of water. Rinse and drain.
Heat a little olive oil in a medium heavy-bottomed pot. Add the beans and onions and cook for 15 minutes, stirring regularly, until the onions are soft.
Pour in cold stock to cover, bring to a simmer, and cook for 40 to 50 minutes, until the beans are tender but still holding their shape. Season with salt 30 minutes into the cooking, and sprinkle with freshly ground pepper just before serving.
LAMB WINE
Les Carderes 2012, Corbieres $11.99
The 'cardoon', is another killer table wine & a charming Corbieres. Syrah, Grenache & Carignan blended in a Mediterranean style that begs for grilled lamb chops & cured black olives. Mineral nose, with raspberry & rosemary. 
Sentinelle de Massiac 2013, Minervois $13.99 TRY AT THURSDAY'S TASTING

This is my new favorite everyday red & I will have it open on Thursday for you to test drive at our wine tasting. Made in the village of Azille at a tiny organic estate in the heart of Minervois. 2/3 Syrah, 1/3 Carignan, lush, plump blueberry/cassis, with dried herbs and spice, plus floral violet & rose underpinnings. Blink & the bottle will be gone.
AIX Rose 2014, Coteaux d'Aix en Provence $14.99 TRY AT THURSDAY'S TASTING
Aix & Avignon are two of my favorite towns in France, & AIX is definitely one of my favorite rose's of the season. A blend of Grenache, Cinsault, Syrah, & Counoise from vineyards made of clay, limestone & gravel. Minerally, light & breezy with grapefruit acidity. Gold Medal winner  at the prestigious 'Concours Général de Paris 2015′ & Mundus Vini.
Chateau Sainte Eulalie Plaisir d'Eulalie 2013, Minervois $14.99
A bargain grown in chalky soil on the south side of Montagne Noire in western Languedoc. A sultry Carignan/ Grenache/Syrah blend brimming with black fruit & licorice.
Chateau Pegau Cuvee Maclura 2012, Cotes du Rhone $19.99

Made by the legendary Laurence Feraud of Domaine du Pegau, this is an newer 100+ acre estate  named after a type of orange tree found on the property. 60% Grenache with Syrah, Mourvedre & Cinsault blended in a succulent fashion. Boysenberry nose, with tons of garrigue, cassis & a sun-kissed fig finish.
89-91 Points | Robert Parker's The Wine Advocate
St. Damien Gigondas Souteyrades 2011 $34

Souteyrades comes from the Domaine's best parcels with vines starting at 60 years old. Consultant Philippe Cambie starts  harvesting when most are finishing picking, making for softer tannins. Cambie's signature is intensely ripe fruit, wild earth & a sense of place–La Baumette, the "hot" corner of Gigondas. A baby Chateauneuf for $34…
"An almost stylistic blend of the voluptuousness of the Vieilles Vignes and the structure and elegance of the La Louisiane, the 2011 Domaine Saint-Damien Gigondas Les Souteyrades looks to be a knockout Gigondas.  Perfumed and complex on the nose, with black fruit characteristics intermixed with notes of mineral, pepper, potpourri, and licorice, this hits the palate with a full-bodied, decadent, and beautifully rich texture and notable balance and poise.  Structured, concentrated, and with enough tannin to benefit from short-term cellaring, this beauty will drink well for 12-15 years.  "  93-96 pts Jeb Dunnuck (Rhone Report / Wine Advocate)
Domaine Joseph Roty Cuvee de Pressonnier 2011, Bourgogne $35

"Roty wines are very distinctive. They are full, very intense, very perfumed and very harmonious. They are certainly immensely seductive." -Clive Coates
Joseph Roty's family has worked the same vineyards for over 300 years–they have a key advantage working with some of the oldest vines in the area. Known as an exceptional value, this is declassified Gevrey.
FOR EASTER BRUNCH
NOT JUST ANY BACON, DUCK BACON
Easter is a major brunch holiday. So why not celebrate with some of the tastiest  bacon out there? Use as you would any other bacon.
How about a duck bacon & asparagus quiche?
D'Artagnan Uncured Smoked Duck Bacon $13.99
Duck breast rubbed with salt & sugar, then smoked over applewood. Thick & meaty with a rich, smoky flavor. "For its applewood-smoked bacon, available online and in select supermarkets, D'Artagnan uses meat from breeds including Berkshire, Tamworth, Duroc, Landrace and Hampshire. Our editors liked its mellow smoke and pleasant saltiness." -Food & Wine
Applewood Smoked Hudson Valley Duck Bacon $15.99
From a top-notch foie gras producer in upstate NY… Applewood smoked cured cage-free Moulard duck bacon, made by  a small farm in upstate NY.
Kusmi Tea Brunch Assortment $25.99

All your Kusmi favorites packaged together–5 tins of Paris's favorite tea.
An assortment of three exclusive Russian blends. Anastasia, a blend of Earl Grey, lemon and orange blossom, Kashmir Tchai, a blend of black teas with spices based on the traditional Nepalese recipe and Imperial Label, a subtle blend of green tea, cinnamon and licorice. Those who love full bodied teas will delight in English Breakfast, with its blend of black teas from Ceylon and Assam. You will love the refreshment of Spearmint green tea after a meal.
This Weeks Macaron Flavors
$2 each

Salted Caramel
Pistachio
Lavender
Chocolate
Peach
Coffee
Vanilla
Matcha    NEW
Chocolate Raspberry
Lemon
Strawberry