Paris Grocery seattle
February 5, 2015
Bonjour Mes Amis,
Romance is France's middle name, so I hope you'll be paying us a visit this week. I'll be at Paris five days a week while the lovely Kelsey travels in France for six weeks. So please come by & say hello…
And bonne Saint Valentin!
"I only drink champagne on two occasions, when I'm in love, and when I'm not…" -Coco Chanel
A Bientot,
Catherine
SEARED FOIE GRAS WITH PINEAU-GRAPEFRUIT REDUCTION adapted from Laurent Tourondel's recipe, as it appeared in Leite's Culinaria
The original recipe calls for late harvest Chardonnay, but I chose Pineau des Charentes in its place. This delicious aperitif from the Cognac region is affordable enough to cook with, and bien sur, delightful to drink. 
For the apple purée
3 tablespoons unsalted butter
3 Granny Smith apples, peeled, cored, and thinly sliced
3/4 cup dry white wine
3 tablespoons quince jelly or quince paste
For the foie gras and reduction
6 pieces grade A (4 ounces each) foie gras 
Sea salt and freshly ground black pepper
1 cup freshly squeezed grapefruit juice
1/2 cup Pineau des Charentes Blanc
Zest from 1/2 orange, preferably organic
1/4 teaspoon finely chopped fresh rosemary
1 1/2 teaspoons unsalted butter
For the assembly
6 slices (1/2-inch thick) brioche
1/2 cup mâche (optional)
DIRECTIONS
Make the apple purée
1. Melt the butter in a medium sauté pan over medium heat. When the butter begins to foam, add the apples, wine, and jelly. Cook, stirring frequently, until the apples are tender, about 5 minutes. Transfer the mixture to a blender and purée until smooth. Set aside at room temperature.
Cook the foie gras and reduction
2. Place a large sauté pan over medium-high heat. Using a paring a knife, gently score the foie gras slices with a diagonal pattern on 1 side. Season to taste with salt and pepper. Place 3 slices in the pan and sear until golden brown, about 2 minutes. Reduce the heat slightly, turn the foie gras over, and cook for an additional 2 minutes. Transfer to a plate and set aside to rest. Wipe the pan clean and repeat with the remaining 3 slices of foie gras.
3. Pour the excess pan drippings out of the pan, leaving just a thin film in the pan and reserving 3 tablespoons of drippings to add to the reduction. Deglaze the pan with the grapefruit juice over medium-high heat, scraping up any browned bits with a wooden spoon. Simmer until the juice is reduced by half, about 2 minutes. Add the Chardonnay, orange zest, rosemary, and the reserved pan drippings and simmer for 1 minute. Add the butter, remove from the heat, and whisk until well combined. Season the reduction to taste with salt and pepper.
Assemble and serve
4. Preheat the broiler.
5. Using a 3-inch round cookie cutter, cut the brioche into rounds and place them on a baking sheet. Toast the brioche rounds under the broiler until golden brown, about 1 minute per side.
6. Place the brioche toasts in the center of 6 serving plates. Lay the foie gras slices on top of the brioche. Spoon the apple purée around the foie gras, drizzle with the grapefruit reduction, and, if desired, scatter the mâche leaves over the top.
WINE TO GO WITH FOIE
Château Guiraud Sauternes 2009 $60
"This blend of 65 percent Sémillon and 35 percent Sauvignon Blanc comes from 35- to 40-year-old vines on a 316-acre property co-owned since 2006 by Robert Peugeot (of Peugeot automobiles), Olivier Bernard (Domaine de Chevalier), Stephan von Neipperg (Canon-La Gaffelière and others) and Xavier Planty, the estate's longtime general manager. Planty, who oversees winemaking, strives for low yields; the vines usually average nine-tenths of a ton per acre, about half the legal limit in Sauternes. While 2009 was a banner year for red Bordeaux, the region's sweet wines are impressive, too—the best vintage since 2001." -96 points, Wine Spectator
Chateau Suduiraut Sauternes 2007 $67 
"Dried lemon and floral aromas lead to loads of botrytis spice and bitter lemon peel in this young, full-bodied sweetie, with hints of lively lime and honey. Medium sweet. Very intense. Best after 2014." -95 points, Wine Spectator
-95 points, Robert Parker
CHEESE OF THE WEEK
Pierre Robert $26.99 lb

This cheese LOVES Champagne. Our richest triple creme, Pierre Robert is aged two weeks longer longer than Brillat-Savarin which imparts an even creamier texture–hard to believe that's possible! Tastes like whipped butter with lick of Normandy salt.
WE LOVE MACARONS!!!
A box of chocolates is nice & all, but Macarons are what warms our heart.
I'm thrilled to be receiving a Valentine's Day batch of macarons from Luv Macarons. Sold singly for $2 each, or we have a limited number of cute assorted gift packs for $10.99.
This week's flavors:
Salted Caramel, Lemon, Raspberry, Strawberry, Vanilla, Rose, Lavender, Pistachio, Chocolate Cherry
And for the chef, we have Macaron cookbooks & fillings which make for a sweet gift
Macarons: Authentic French Cookie Recipes from the Macaron Cafe by Cecile Cannone $14.95
I Love Macarons by Hisako Ogita $14.95
Macarons: Chic & Delicious French Treats by Annie Rigg $15.95
L'Epicurean Raspberry, Lemon & Pistachio Curd
$9.99 4.4 oz; $13.99 11.3 oz 
Pre de Provence Soaps
We just got a new shipment in of these luxurious Shea Butter enriched  soaps made in Provence, naturellement.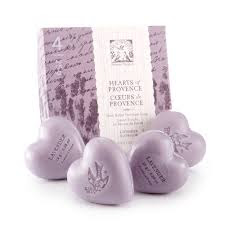 Lavender & Rose scented Hearts $4.99
Private Collection: Cardamom, Absinthe & Sandalwood; Rhubarb & Mint Tea $8.99
Guest Soaps $11.99
Poterie Not Freres Cassoles $149
This is the ultimate Valentine's gift!

Poterie Not Freres is THE source of authentic cassoles. Made by the Not family since 1830, using local clay from Gascony.
_______________________________
CHAMPAGNE!
Henriot "Souverain" Brut Champagne $45
" This rich Champagne offers notes of roasted hazelnut, brioche and smoke, layered with vibrant acidity and a fine mousse to create an overall sense of finesse. The bright hints of black currant, poached quince, pickled ginger and licorice are fresh and juicy, lingering on the finish. Drink now through 2023."
92 points Wine Spectator
Stephane Coquillette "Carte d'Or" Brut Premier Cru Champagne $47

Made by a small family producer where everything is done by hand. "A bold Champagne, with broad shoulders and racy acidity, displaying layers of ripe blackberry and black cherry fruit, malt and wheat toast, with hints of smoke and vanilla. Despite its power, this is well-meshed and elegant, offering much to think about with each sip. The finish is juicy and floral."
-92 points Wine Spectator
Pierre Gimmonet  1er Cru Blanc de Blancs $48
'Pale gold with a frothy mousse. Highly aromatic bouquet of tangerine, pear, minerals, sweet butter and lees; smells like a Puligny-Montrachet. Fine, focused and pure, offering spicy citrus and orchard fruit flavors and a strong mineral bite. The minerality gains strength on the finish, which is spicy and strikingly energetic. This pure, graceful Champagne would be perfect with oysters.' 92 Points, Stephen Tanzer
Dosnon & Lepage Recolte Rose Brut Champagne $62

Seriously pretty package, seriously delicious sparkling rose.
"(100% pinot noir):  Light, bright orange.  Redcurrant, orange zest, jasmine and a hint of dusty minerals on the seductively perfumed nose.  Juicy, vibrant and taut, offering powerful, spice- and mineral-accented flavors of red berries and candied orange peel.  Silky and expansive on a finish resounding with orange and mineral notes." -93 points, International Wine Cellar