Paris

Grocery Seattle

August 28, 2014
Bonjour Les Amis,
Happy early Labor Day! We are open all weekend, including Monday from 11 am to 5 pm.Stock up on Champagne, Frommage, Charcuterie for a Bon Fete.
A Bientot,
Catherine Reynolds
Le Cadeaux Provencal Panniers $9.99
An assortment of cute cloth bread baskets just came in–so very French!
Le Cadeaux Melamine Cheese Boards $11

Picnic & boat ready! Dishwasher safe, yet looks like ceramic ware.
R. Dumont Brut Tradition, Champagne $39
The Dumont family's estate is located in southern Champagne, amongst forests, streams, and rows of grape vines. The Dumont family moved to the country to make beautiful wine & they have succeeded. This is a bargain in grower Champagne made with 80% Pinot Noir & 20% Chardonnay. Toasty brioche nose, with sumptuous hazelnuts & green apple–power met with elegance.
Oyster Plates $10.99
Pradel Oyster Opener $14.99

Serve oysters in style! We found these ceramic oyster plates for you & ordered up some authentic French oyster knives with a beechwood oyster holder.
Le Fay d'Homme 2013, Muscadet $13.99
The fantastic thing about Muscadet is that it not only plays well with shellfish, but also with  ribs & gumbo.  This had a marvelous viscosity to it & while delicious now, proves that Muscadet can actually age remarkably well in your cellar. I dare you to experiment, and for $14, why not?
"Muscadet is delightful when young and should generally be consumed within a few years of the vintage. Yet believe it or not, a good bottle can evolve with age into a wine that combines the racy acidity and almost kerosene aroma of older riesling with enticing nutlike, mineral and honey flavors. And it is still fairly inexpensive. If you haven't had a good Muscadet 6 to 15 years old, it will be a surprise." -Eric Asimov
Dosnon & Lepage Recolte Rose Brut, Champagne $62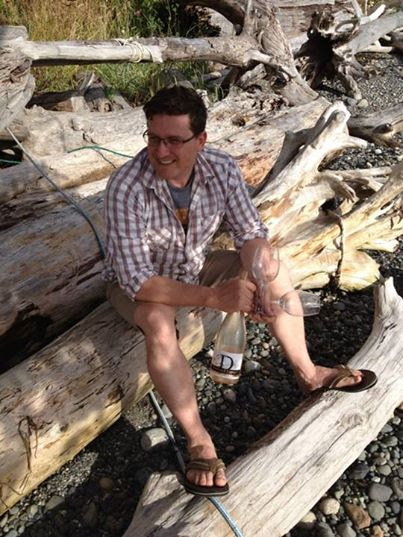 This amazing rose Champagne is how I celebrated my birthday this summer.
"(100% pinot noir):  Light, bright orange.  Redcurrant, orange zest, jasmine and a hint of dusty minerals on the seductively perfumed nose.  Juicy, vibrant and taut, offering powerful, spice- and mineral-accented flavors of red berries and candied orange peel.  Silky and expansive on a finish resounding with orange and mineral notes." -93 points, International Wine Cellar
LOCALLY DELICIOUS NEW PATES
Olympic Provisions Honey Hazelnut Pate  $15.99 lb
Oregon-grown hazelnuts, honey, cognac & bacon. A rich & delicious addition to our deli case!!!
Olympic Provisions Pistachio Pate $15.99 lb

Country-style pate made with heritage pork, fresh herbs & pistachios, port wine, capped with rendered pig fat. Local never tasted better.
Julia Child's bouillabaisse recipe from mastering the art of french cooking
Serving Size: Serves a table of 6
Serve the bouillabaisse with toasted bread and rouille on the side.
ingredients
1/2 cup olive oil
1 cup each chopped onion and leek
4 cloves mashed garlic
2 or 3 large, ripe tomatoes
2 1/2 quarts water
Fresh herb sprigs: thyme, parsley, fennel fronds and basil (in any combination)
1/2 teaspoon saffron
1 tablespoon sea salt
3 – 4 pounds fish heads, bones, trimmings, shrimp shells
1 1/2 pounds each peeled shrimp (use the shells for the stock); wild cod, halibut and/or sole cut into chunks, and debearded, scrubbed mussels or clams
Toasted rustic bread
1 jar Delices du Luberon Rouille au Piment d'Esplette
instructions
Heat the oil in a tall pot (I used an 8 quart stockpot) over medium heat; add the onion and leek and cook gently until softened. Stir in the garlic and cook for a minute until fragrant, then add the tomatoes, water, herbs, saffron, salt and fish bones. Bring to a simmer, then reduce heat so that the broth bubbles slowly without boiling.
Cook 30 minutes, then strain the broth into a large bowl or another pot and discard the solids.
Pour the broth back into the stockpot and bring to a boil. Add the shrimp and cook until they turn pink, a minute or two. Add the rest of the fish and shellfish, cover and simmer until the mussels or clams open. Taste the soup and add more salt and freshly ground pepper if needed.