Paris

 Grocery seattle

March 6, 2014
Hazelnut and Wild Mushroom Pâté
By CHRISTINE MUHLKE Adapted from Naomi Pomeroy at Beast in Portland, Ore.
Makes 3 cups. 
1 large shallot, thinly sliced
2 cloves garlic, minced
1½ teaspoons salt
¼ teaspoons freshly ground pepper
1 pound wild mushrooms, sliced
½ pound Crimini or button mushrooms, sliced
2 teaspoons Marsala wine Scant
1 cup roasted hazelnuts
4 tablespoons unsalted butter, melted
½ teaspoon apple-cider vinegar
½ teaspoon aged balsamic vinegar
Pinch ground nutmeg
Pinch ground cayenne.
1. In a large sauté pan over low heat, melt 2 tablespoons butter. Sweat the shallot until translucent, about 3 minutes, then add the garlic and cook another 2 minutes. Raise heat to medium and add salt and pepper and half the mushrooms. Sauté until fully cooked and browned, about 7 minutes. Turn off heat and add the Marsala. Remove to a plate to cool. Return the skillet to medium heat, melt 2 tablespoons butter and cook the remaining mushrooms for about 7 minutes. Add to other mushrooms to cool.
2. In a food processor, grind the hazelnuts to medium fine and add the mushroom mixture, cayenne and nutmeg. With the machine running add in the melted butter and vinegars. Taste and adjust for seasoning.
3. Serve on crostini or crackers or as a filling inside a tart or turnover.
______________________________________________
Domaine de Bernier Chardonnay 2012, Loire Valley $9.99
This is made by an excellent Muscadet producer, grown in heavily chalked soil, making it a fine "impersonation" of a Chablis at a bargain price. Clean, fresh, unoaked Chardonnay from the Loire made in a thirst-quenching style–citrus & apple with a creamy texture & a minerally finish.  Innately French Chardonnay that's perfectly suited to pair with goat cheese. It's coming home with me & my chevre!
Mini Crottin Maitre Seguin $6.50 each

Made for your cheese plate… This wrinkly little goat cheese is just the thing for Chevre Chaud and its lemony zip loves a good Sancerre. We don't wrap these so they can ripen slowly atParis–that is if they last more than a weekend!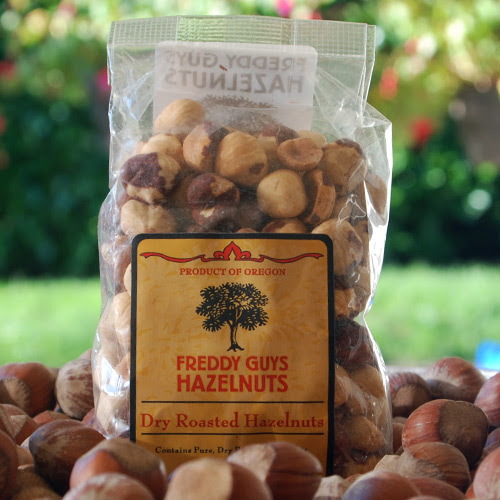 Freddy Guys Hazelnuts $7.99 8 oz bag
Family-run orchard, Freddy Guys, in Willamette Valley, churns out these delicious, farm direct hazelnuts. Dry roasted in small batches with no salt or oil added, these hazelnuts are pure crunchy, nutty goodness. Local, natural, and delicious, there's not much more you could want in a nut.
2011 Pierre Henri Muscadet de Sèvre-et-Maine Saint-Fiacre 
$11.99
Rain is in the forecast this weekend, but I plan on sipping chilled Muscadet, dreaming of the northern beaches of Brittany. Lying between two rivers, the commune of Saint-Fiacre produces this Muscadet. Dry, crisp and mineral, this is the perfect shellfish wine.

A Bientot,
Catherine Reynolds