Paris

 Grocery seattle

March 27, 2014
Bonjour Les Amis!This is one of those weeks that I love. Spring is here & the store has a fresh new look with tons of newdelices to enjoy.I want you to come by, have a look, taste cheese, and get inspired.

A Bientot,
Catherine

HOMEMADE MERGUEZ PATTIES recipe adapted from Taste Food blog

3 tsp Whole Spice Merguez Sausage Rub
Tbs Harissa paste
2 garlic cloves, minced
1 pound ground lamb shoulder
Olive oil
Combine all of the ingredients except the lamb in a bowl. Stir to form a paste. Add lamb and thoroughly mix together with your hands. Form into 1 1/2 inch patties. Cover and refrigerate at least 2 hours or overnight.
Heat 1 tablespoon olive oil in a skillet over medium high heat. Add patties, without overcrowding, in batches. Cook, turning once, until brown on both sides. Check & taste for salt. Transfer to a plate lined with a paper towel and keep warm. Repeat with remaining patties.
Serve with pita bread, harissa sauce, Greek style yogurt and fresh mint leaves.
Vietnamese Saigon Cinnamon sold in bulk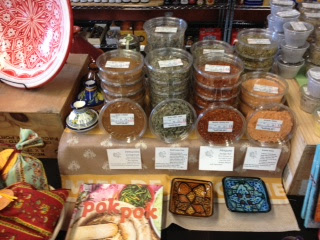 Both Paris Grocery & Spanish Table got an exciting shipment of spices from Napa. Kelsey told you last week about the arrival of powdered Sriracha, but we also got the world's most potent cinnamon. Stronger, sweeter, with a higher oil content, the flavor disperses like none other in your cooking & baking which is why it's so prized.
Mustapha's Preserved Lemons sold in bulk in our deli case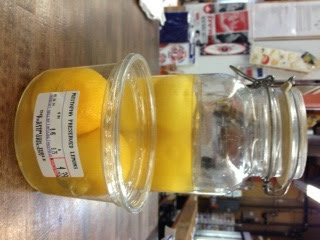 I am so excited to add this to our deli case! Mustapha Haddouch is a local legend and he sources the best in Mediterranean products. I found out I could buy these in bulk, so you can go to our deli case where jars now sit proudly next to our bulk duck fat. Ask us to tub up as many or as few as you like!
MEAT GLORIOUS MEAT!
We got an order in from D'Artagnan in NY, so our freezer & fridges are filled with the best.
D'Artagnan Jambon de Bayonne $10.99 4 oz pkg

French Prosciutto! "Our jambon de Bayonne, or French prosciutto, is an all-natural, dry-aged product that makes a fantastic addition to pastas, paninis, charcuterie plates and poultry dishes."
D'Artagnan Saucisse de Canard al'Armagnac $13.99 8.5 oz

"These are a few of our favorite things: duck, pork, Armagnac, sausages. Put them together and you've got our signature links, which offer a true taste of Gascony."
D'Artagnan Duck Mousse Basquaise $13.99 8 oz

Grab a baguette & a bottle of Cab Franc to go with this… "This mousse combines duck livers with creamy duck fat, Port wine and roasted red bell peppers for a silky mousse that is perfect for picnics or as part of a charcuterie plate." 
French Ceramic Salt Cellars $7.99

These adorable little salt cellars just came in… Each includes a ceramic spoon. At this price you can have multiple flavors of salt on the table at once!
FRENCH HEIRLOOM SEEDS!
I sourced these seeds from a company in California & tried to look for varietals that will hopefully grow well in the Pacific Northwest.
Endive/Escarole de Louviers $1.75
"Leaves are very finely curled and deeply notched. Produces a good blanched and curled yellow heart. This heirloom is high quality and tasty. In 1885 Vilmorin said, 'Bulk for bulk, it yields a larger amount of useful produce.'"
Bacalan de Rennes Cabbage $2 packet
"Listed by Vilmorin in 1867, this French heirloom was grown in the Saint-Brienc and Bordeaux localities. The oxheart-shaped heads grew especially well in the mild, seaside climate along the west coast of France. Early, flavorful, green heads are still grown in France today."
Parisian Pickling Cucumber $2 packet
"60 days. The old French gherkin or cornichon pickler. Listed in America in 1892 by Gregory. Great for making tiny sweet pickles. Rare."
Melon Charentais $2.50 packet
"85 days. A famous, superb heirloom. A French 2-3 lb. melon with light grey-green skin. The bright orange flesh is super sweet and very fragrant. This was my favorite melon in 2003. I just love the firm, sweet flesh."
Fin de Bagnols Bean $2.75 packet
"Bush. 57 days. Old standard French haricot verte (horticultural or filet) bean that has been grown for at least a century! Dwarf plants thrive in cooler soils; really crank out small, slender, round green pods. Best harvested every 3 to 4 days, at 3 to 4 inches in length, when the pods are quite slender and free of strings. Succession plant a row every three weeks for an unending supply of superior gourmet beans. Premium variety at farmer's markets!"
Haricot Tarbais Bean $2.75 packet
Try to grow your own Tarbais!
"(Pole), 90 days. Plump snowy-white variety has been grown for centuries around the village of Tarbais, in southwestern France. Used primarily as a dry bean, including its traditional forte, as a main ingredient of cassoulet. Skins unusually thin and delicate, lower starch content than other types, and of remarkable tenderness!"
VIN I LIKE
Chateau Jalousie 2011, Bordeaux Superieur $9.99
It's hard to go wrong with a bottle of this! Dark chocolate & berry nose, rich & earthy flavor–70% Merlot, 20% Cab Sauvignon, 10% Cab Franc.  Truly a steal.
Jean Royer Le Petit Roy 12eme Annee, Vin de France $19.99
What Chateauneuf lovers should drink on a daily basis. This is made by a small producer in Chateauneuf, Domaine Jean Royer, & contains everything not in the cuvee. Savory baked plum nose, dense dark fruits & chocolate covered strawberries. I ❤ you Little Roy!